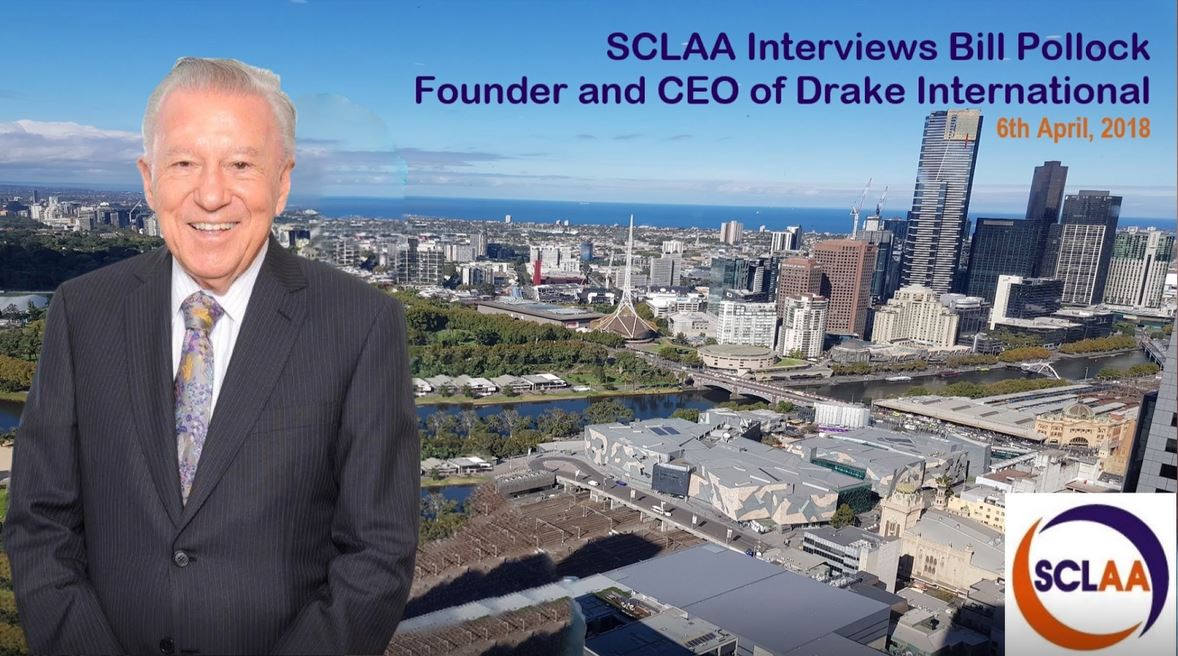 Interview by SCLAA Director, Erica Gilcrist
On the 6th of April, I had the absolute pleasure of being able to meet and speak with Mr. Bill Pollock, Founder and CEO of Drake International.  For those who may not be entirely familiar, Drake International is among the largest of staffing and recruitment companies globally.  With operations in 11 countries around the world, Drake International provides much more than simple staffing solutions.  They are an end-to-end provider of human resources services, performance improvement, consultative management, permanent staffing, temporary staffing and technology solutions.
Mr. Pollock himself is an exceptionally presented, soft-spoken, 90 years' young Executive whose company's origins form what is today's modern temporary staffing agency.  And whilst Drake International is much more than a successful global giant in the human capital industry, Bill's story from then 1951, to now, is a story chock full of 'world firsts' against an almost rags to riches backdrop.  Please enjoy the following Podcast with Bill and hear about his humble beginnings in Winnipeg, Ontario (Canada) to the 40th Floor of Collins Street in Melbourne Australia, just one of the many Drake International Offices around the world.
To find out more about Drake International, please visit their website at https://au.drakeintl.com
Click here to listen to the interview.
Are you our new Treasurer? Expressions of Interest should be emailed to secretary@sclaa.com.au. Closing date for Expressions of Interest: Midnight on Friday, 15 September 2023.
The 60th Annual Australian Supply Chain and Logistics Awards were held at Crown Palladium, Melbourne on Friday 18 March 2022. There was a record audience in attendance to celebrate the achievements and innovation in the supply chain and logistics industry – and our MC, Shane Jacobsen, ensured that it really was a night to remember!…
National Partner 3DL/Australian Customs Clearance is helping to arrange for goods to be consolidated and sent via DNV Transport (Dave's Trucks) to Lismore. Dave is collecting and consolidating at his depot in Radar St, Port Lytton. Please email either Chris Roberts at Chris@3dlogistics.com.au or David Carswell at dave@dnvtransport.com.au. Trucks are leaving daily with a warehouse…