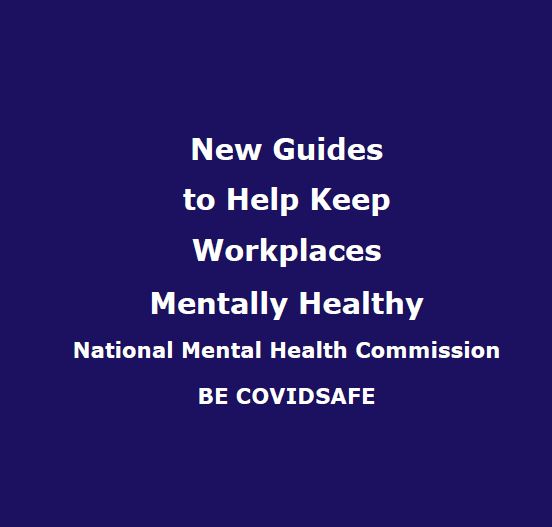 New Guides to Help Keep Workplaces Mentally Healthy
2020 has been challenging for all Australians.
Across this great southern land, bushfires, floods and in particular, the global COVID-19 pandemic has had an undoubtable impact on each and every one of us.
One area in particular is the transport & logistics sector.
COVID-19 has had, and continues to have, a significant impact on the mental health and wellbeing of Australian workers. The National Mental Health Commission is encouraging businesses and workplaces across transport & logistics in Australia to adopt new Mentally Healthy Workplace guides, which support the mental health and wellbeing of Australian workers and businesses during, and after, COVID-19.
Good mental health in the workplace is just as important as good physical health.
All workplaces can take some simple steps to look after mental health during COVID-19. That's why the Mentally Healthy Workplace Alliance, has helped to create a set of resources to help Australians navigate the mental health challenges of COVID-19 in their workplaces.
These resources have been developed with three key audiences in mind, sole traders, small business and medium to large businesses.
They have been created by experts to provide practical tips and advice on helping employers and employees look out for the signs that someone may not be coping and assist them to find help when they need it.
You don't have to be a mental health expert to spot signs that someone around you might need extra support," said Lucy Brogden AM, Chair of the Mentally Healthy Workplace Alliance.
"Talking about mental health and creating a culture of trust and openness in the workplace can reduce stigma and make it easier for people to reach out and seek support when they need."
The resources also help workplaces understand their obligations in regard to the mental health and wellbeing of their workforce.
"Making workplaces mentally safe is an equal priority to making workplaces physically safe."
The resources also include a guide on how you can have conversations about mental health and wellbeing in the workplace in a safe and supporting way.
You can download the resources at https://www.mentalhealthcommission.gov.au/Mental-health-Reform/National-Workplace-Initiative/Mentally-Healthy-Workplaces-during-COVID-19
Are you our new Treasurer? Expressions of Interest should be emailed to secretary@sclaa.com.au. Closing date for Expressions of Interest: Midnight on Friday, 15 September 2023.
The 60th Annual Australian Supply Chain and Logistics Awards were held at Crown Palladium, Melbourne on Friday 18 March 2022. There was a record audience in attendance to celebrate the achievements and innovation in the supply chain and logistics industry – and our MC, Shane Jacobsen, ensured that it really was a night to remember!…
During his National Cabinet address on 2 July, Prime Minister Scott Morrison made reference to additional support through the International Freight Assistance Mechanism (IFAM). This extension has now been officially confirmed, with the Australian Government announcing that IFAM will receive an additional $260.9 million to continue operations until 30 June 2022, with an operational tail to the…