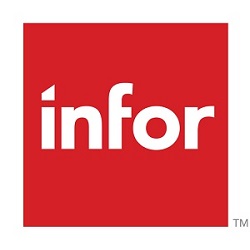 SCLAA Welcomes New National Partner – Infor
The SCLAA welcomes our newest National Partner, Infor. As a not for profit Industry Association, run by members for members, our ability to support the SCLAA infrastructure and to expand is highly dependent on our National Partners. We ask all our members to support our valued National Partners where they can. 
INFOR OVERVIEW
Infor is a global leader in cloud software products specialised by industry and combines best-in-class solutions to optimise your end-to-end supply chain and collaborate more effectively with customers, partners, and suppliers. With analytics at the core, gain greater visibility into your supply chain to optimise resources and labour, improve inventory and shipping accuracy, deliver the perfect order, and respond faster to customer opportunities and market fluctuations.
Offering different solutions for varying needs, Infor supply chain management solutions deliver intelligent, real-time supply chain orchestration across supply and demand, global trade management and visibility, financial management and P2P automation, and advanced warehouse management.
Infor Supply Chain Planning (SCP) balances supply and demand through modular applications to tackle key areas of complexity—all while making use of a shared, powerful, end-to-end platform. The integrated planning platform uses complex algorithms, optimisation techniques, and heuristics to derive plans from the strategic utilisation of assets to tactical responses to unexpected market shifts. In-memory processing and a cloud-native architecture enables network-wide optimisation and collaboration.
Infor Nexus (Global Trade Management and Supply Chain Visibility) is the world's only single-instance business network, providing end-to-end supply chain orchestration through a solution designed for the enterprise-level organisations across several specialised industries. Infor Nexus provides predictive intelligence which allows companies to proactively rearrange resource and labour utilisation, inventory and shipping operations, and respond to fluctuations in the market. Infor Nexus builds communication by eliminating silos internally, as well as with suppliers, partners, and customers.
Infor Nexus (Financial Supply Chain Management) connects all parties, documents, and systems in an automated ecosystem, allowing for exceptions management and N-way matching that not only digitise invoices, settlements, and supply chain financing, but enable strategic programs to improve working capital and assure supply. By connecting the entire supply chain on a single end-to-end networked platform, retailers and manufacturers create streamlined, more compliant transactions. This opens the door for innovation around supply chain finance and dynamic discounting, deductions management, and trading company models and first sale automation.
Infor WMS is an advanced warehouse management system combining core warehouse functionality with labour management, task management, wave management, 3PL management, and more on one highly configurable, scalable database. The contemporary user interface, combined with an open API framework, enables advanced features such as Web RF, 3D visual warehousing, and voice processing, allowing you to manage multiple channels (B2B/B2C) from a single warehouse.
To learn more, please visit www.infor.com or connect with us today.
SCLAA Welcomes New National Partner – The Access Group COGNEX  The Access Group is one of the largest UK-headquartered providers of business management software to small and mid-sized organisations in the Asia Pacific, UK and Ireland. It helps more than 70,000 customers across commercial and non-profit sectors become more productive and efficient. Founded in 1991,…
SCLAA Welcomes New National Partner – Cognex COGNEX  is the world's leading provider of vision systems, software, sensors, and industrial barcode readers in Logistics/Warehouse Automation. Our vision solutions help companies in Retail Distribution, E-commerce Fulfilment, and Parcel Processing industries continue to meet customer demands and performance metrics is greater than ever. Successful companies are scaling…
SCLAA Welcomes New Platinum Partner – Shipeezi An ecosystem in shipment visibility™, bringing together all stakeholders from point of origin through to point of destination into its agnostic Control Tower. Shipeezi, is a dynamic and innovative LogTech company working to revolutionise shipment visibility and supply chain orchestration, as an ecosystem. We empower businesses by simplifying…