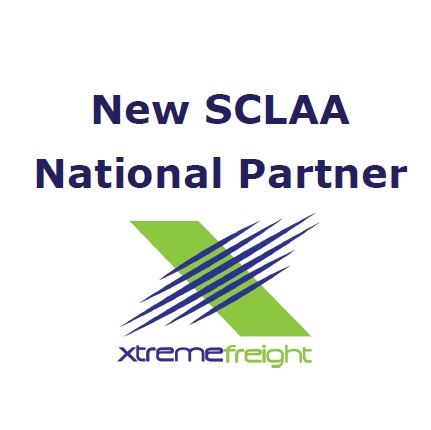 New SCLAA National Partner
The SCLAA welcomes our newest National Partner, Xtreme Freight. As a not for profit Industry Association, run by members for members, our ability to support the SCLAA infrastructure and to expand is highly dependent on our National Partners. We ask all our members to support our valued National Partners where they can.
"We Never Say No To Our Customers"
Xtreme Freight is an innovative and diverse privately owned company dedicated to providing customers with total quality transport and logistics solutions. Xtreme Freight have been servicing the industry since 1988 and the Director of the company and the unique team have over 45 years' experience in the Transport Industry. Companies large and small including prominent Freight Forwarders and Customs Agents around Australia utilize our unique product offerings. The diversity and agility we can offer our partners are numerous ensuring we are a one stop shop for all your freight needs.
Our team all has a diverse range of experience within the Transport industry including international trade. Strong relationships with our clientele adds security to our service; we can meet some of the most demanding time constraints and challenging logistics jobs crucial to supply chain management. Being ISO accredited and an Australian Trusted Trader we take the business of moving freight safely and securely through our network very seriously to deliver to you our valued partners the seamless transport and logistics you deserve. High levels of services are required to meet the most challenging jobs and the ability to execute on our promises has seen our company go from strength to strength. The interstate/intrastate work is handled by our senior management team and with ties to some of transports largest blue-chip corporations around Australia this gives us the ability to negotiate competitive rates for our customers.
With Bonded warehouse facilities around Australia, Xtreme Freight offer a diverse range of options including 3PL/Storage for our customers. Superior logistics services are provided by people who know your business and are committed to helping you succeed. Together our company works as a cohesive team striving for excellence by building relationships and delivering first class consultative processes and services to deliver for our customers.
In addition, the company provides courier services, taxi truck services, LCL and airfreight services and with the experience in complex movements for construction, retail and manufacturing products you can be confident that they are all expertly handled and another part of our growing range of services. Communication is key to success and you are never a number at Xtreme Freight, we procure business relationships and work closely with all our partners to help them succeed. Your success is important to all the team at Xtreme and we aim to work with you long term with trust, respect and loyalty being our key mantra shown through our actions and the support you receive from our teams from all divisions throughout the company.
Xtreme utilise specialist vehicles such as trays and crane trucks to service the construction industry including project management being a big part of what we do. We service the civil infrastructure, agricultural and perishables industry sectors and in addition the business provides specialised transport for perishable freight to and from the major airports, handling commodities such as lobster, seafood and agricultural products for pick up and distribution.
Throughout the global pandemic and the effects it has had to many sectors our company and business operations, we have continued to thrive by servicing the pharmaceutical, construction and agricultural industries just to name a few. At Xtreme Freight you can feel confident that we have your interests at the front of mind in everything we do. For a specialist consultation, query or quotation head to our website at www.xtremefreight.com.au  to find out more about our services or feel free to call us on 1300 367 849 and speak to one of our friendly team. If you are looking for a change and want to experience friendly, efficient and customised services call us today. We solve the pieces of your logistical puzzle.
SCLAA Welcomes New National Partner – The Access Group COGNEX  The Access Group is one of the largest UK-headquartered providers of business management software to small and mid-sized organisations in the Asia Pacific, UK and Ireland. It helps more than 70,000 customers across commercial and non-profit sectors become more productive and efficient. Founded in 1991,…
SCLAA Welcomes New National Partner – Cognex COGNEX  is the world's leading provider of vision systems, software, sensors, and industrial barcode readers in Logistics/Warehouse Automation. Our vision solutions help companies in Retail Distribution, E-commerce Fulfilment, and Parcel Processing industries continue to meet customer demands and performance metrics is greater than ever. Successful companies are scaling…
SCLAA Welcomes New Platinum Partner – Shipeezi An ecosystem in shipment visibility™, bringing together all stakeholders from point of origin through to point of destination into its agnostic Control Tower. Shipeezi, is a dynamic and innovative LogTech company working to revolutionise shipment visibility and supply chain orchestration, as an ecosystem. We empower businesses by simplifying…