The Board and State Committees are continuing to work together to execute the Associations strategy and direction with Member's expectations.
We have listened to members requests for a review of categories which offer even greater benefits and we are excited to announce the Board approval of two new membership categories –
Platinum National Partner and Executive level membership. We will also be renaming our "Individual" membership Category to "Professional" and certain other categories will be amalgamated to a "Basic" entry level membership category to align benefits with affordability/cost expectations.
Platinum National Partner (PNP) membership is for Corporations who wish to take advantage of further increasing their branding and marketing opportunities to the Supply Chain & Logistics sector, as well as securing registrations for their employees and guests at key National and State events.
The category recognises that larger corporations are keen on a broader package with higher value of benefits.
Key benefits include:
A premier National Partner category which includes 10 Nominees (NP- 8)
1 x complimentary table reservation at one Tier 1 event per annum
4 x Platinum National Partner events per annum managed and promoted by SCLAA (either webinars or F2F at PNP discretion) –(NP currently 2)
4 x 1/3 page newsletter promotion (NP- 3)
Preferential Sponsorship of Tier 1 events
Preferential registration for certain events (eg Early bird for site tours, any other events)
All Platinum Partner Nominees can invite take advantage of a limited number of guest registrations at member prices at Divisional events
A comparison of benefits between Platinum National Partner and National Partner can be viewed here: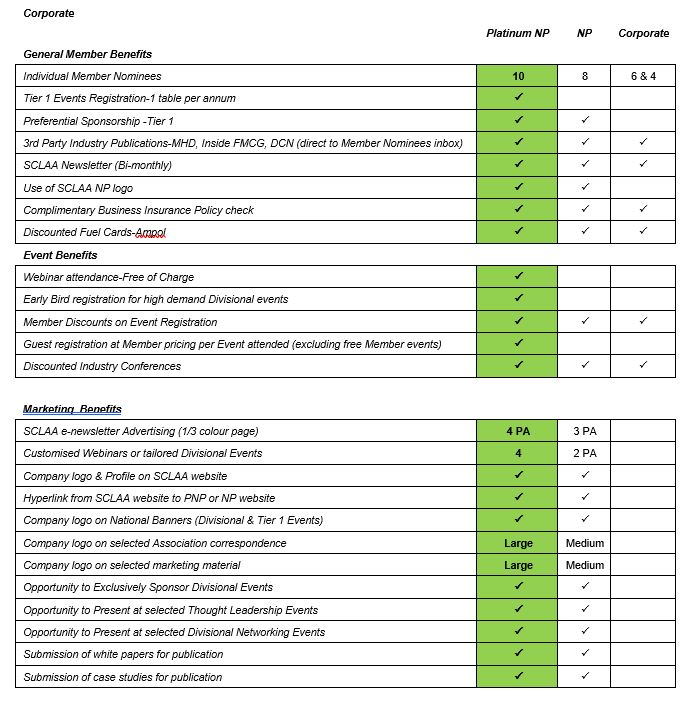 The Executive Member category has been created which recognises Individuals, particularly, business owners, senior and executive management needs for a broader package with higher value of benefits. The category encompasses a range of new benefits suited to decision makers and will incorporate Executive roundtable events during the year and exclusive access to future resources on our new website.
General benefits include:
Complimentary guest registration at member pricing for each event
Complimentary Registration attendance at Tier 1 National event (1 PA)
Early bird registration at high demand events (site tours)
Opportunity to Present at selected Thought Leadership Events
Opportunity to Present at Industry Conferences
Mentoring Programme included in Membership fee
Future Access to selective Member Only resources (our new website resources-Partner directory, Jobs board )
Submission of white papers for publication
Submission of case studies for publication
A full list of benefits and comparison to current Individual Membership benefits can be viewed here: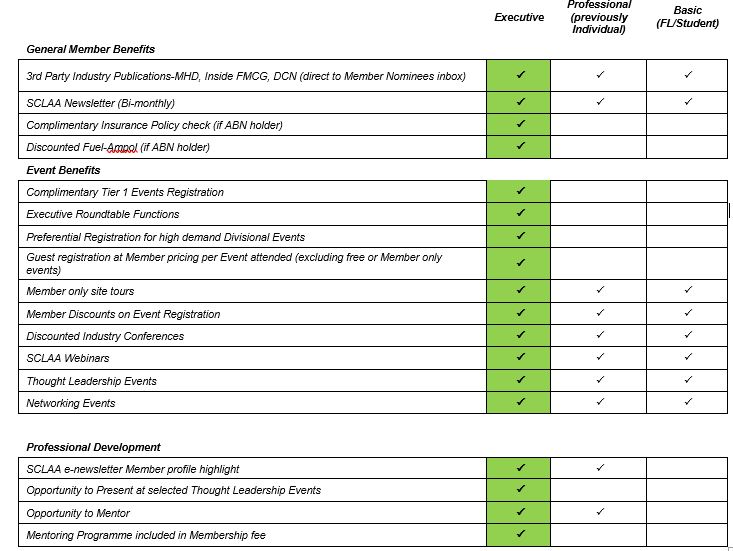 These new categories will become active on our website in coming weeks and should you require more information, please do not hesitate to contact our Secretariat on secretary@sclaa.com.au
Are you our new Treasurer? Expressions of Interest should be emailed to secretary@sclaa.com.au. Closing date for Expressions of Interest: Midnight on Friday, 15 September 2023.
The 60th Annual Australian Supply Chain and Logistics Awards were held at Crown Palladium, Melbourne on Friday 18 March 2022. There was a record audience in attendance to celebrate the achievements and innovation in the supply chain and logistics industry – and our MC, Shane Jacobsen, ensured that it really was a night to remember!…
National Partner 3DL/Australian Customs Clearance is helping to arrange for goods to be consolidated and sent via DNV Transport (Dave's Trucks) to Lismore. Dave is collecting and consolidating at his depot in Radar St, Port Lytton. Please email either Chris Roberts at Chris@3dlogistics.com.au or David Carswell at dave@dnvtransport.com.au. Trucks are leaving daily with a warehouse…