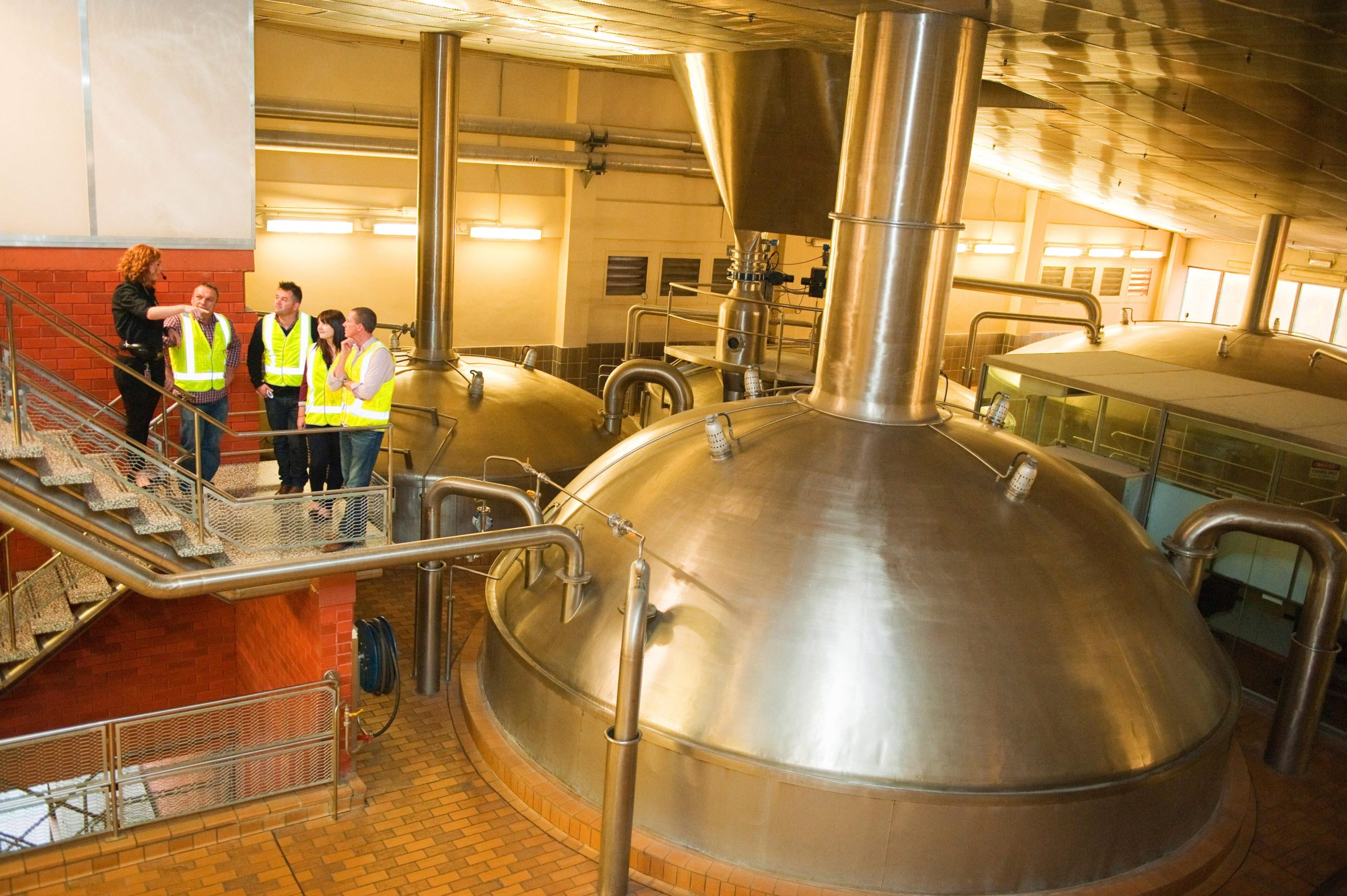 Thursday 19th November and a perfect 30° C day for SCLAA Victoria members to embark on a tour of Carlton United Brewery. I think the beer sampling session at the end was definitely enjoyed by all.
20 SCLAA Victoria members attended the tour of CUB's 22 acre site in Abbotsford and it was certainly a well spent couple of hours.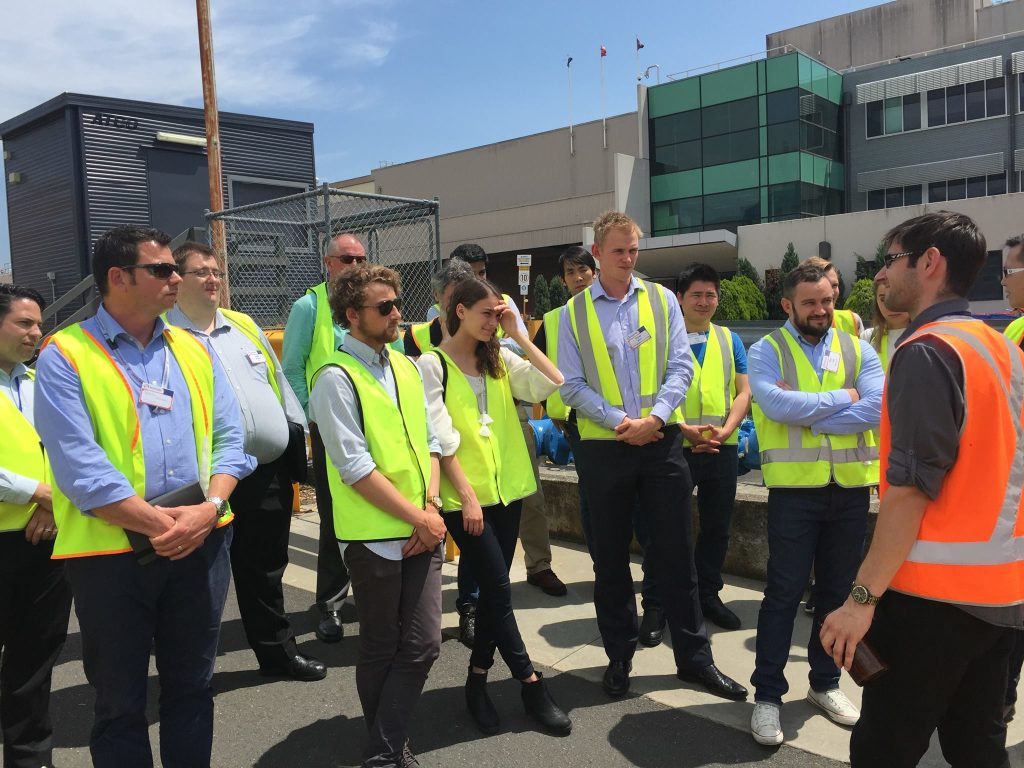 The tour generally follows the beer making process starting with a talk (and smell test) of the locally sourced barley and hops that are the core ingredients that go into the mash tuns along with lots of water and yeast. 1200 Megalitres to be presice.
Now it turns out that this mixture only stays in there for 2 hours if you want to end up with VB whereas beers with less carbohydrates stay in there longer so the yeast can absorb most of the sugars.
After that it's off to fermentation vessels and filtering before it's bottled, pasturised and finally labelled ready for distribution to the thirsty Australian populace.
There's a few highlights from our tour starting with an opportunity to see the fine Clydesdale horses and Dray that just happened to be getting ready for an upcoming event and the customer show truck that they travel around in.
And on that topic of trucks (this was a Supply Chain and Logistics tour after all) there's a little known fact about the Abbottsford brewery which was built almost 100 years ago.
Originally built so raw materials and finished product could be transported by barge, the brewery has obviously grown to a massive scale where everything moves by road. In fact close to 200 truck movements a day flow in and out of the brewery site.
For those that don't know Melbourne, Abbottsford these days is a residential area on the fringe of Melbourne CBD so the first question that arises is 'How come this volume of trucks (mainly B-doubles) isn't visible and causing huge traffic congestion?'  After all the streets around the brewery are normal residential streets not suilted for large trucks – especially 200 of them every day.
Well, the answer for the uninitiated is that there is a secret tunnel that runs from the huge undercover distribution centre and pops out somewhere close to the main freeway. Clever eh?
And the other amazing experience is the packaging line which can manage 1500 bottle per minute. Try and picture that for a moment or think about 25 bottles per second whizzing past. Now imaging three sensors that check correct fill height, cap closure and label positioning followed by a machine that can punch any non conforming bottle off the line without any disruption to the line speed. And that machine is capable of repeating that process on every other bottle if the need so arises. Impressive to say the least.
Now I did mention that the tour finishes with a beer sampling and our members definitely enjoyed that on a 30 degrees day. But apart from that the modern visitor centre, the Carlton United Brewery boasts a terrific café serving up a range of salads, burgers and sandwhiches all of which can be consumed with a drop of your favourite brew.
The only bad news? You can't enjoy a cold beer if you are registered for the tour. Alsolute zero alcohol rule across the entire site so any beer consumption has to wait until after the tour has concluded.
Needless to say, several of our group were keen to show their Supply Chain expertise and sample a few beers for the purely professional purpose of demonstrating their Quality Assurance expertise. At least that's what they told me!
Anyway, a great day was had by all. Our special thanks to the team at Carlton United Brewery for a terrific experience.
Are you our new Treasurer? Expressions of Interest should be emailed to secretary@sclaa.com.au. Closing date for Expressions of Interest: Midnight on Friday, 15 September 2023.
The 60th Annual Australian Supply Chain and Logistics Awards were held at Crown Palladium, Melbourne on Friday 18 March 2022. There was a record audience in attendance to celebrate the achievements and innovation in the supply chain and logistics industry – and our MC, Shane Jacobsen, ensured that it really was a night to remember!…
National Partner 3DL/Australian Customs Clearance is helping to arrange for goods to be consolidated and sent via DNV Transport (Dave's Trucks) to Lismore. Dave is collecting and consolidating at his depot in Radar St, Port Lytton. Please email either Chris Roberts at Chris@3dlogistics.com.au or David Carswell at dave@dnvtransport.com.au. Trucks are leaving daily with a warehouse…