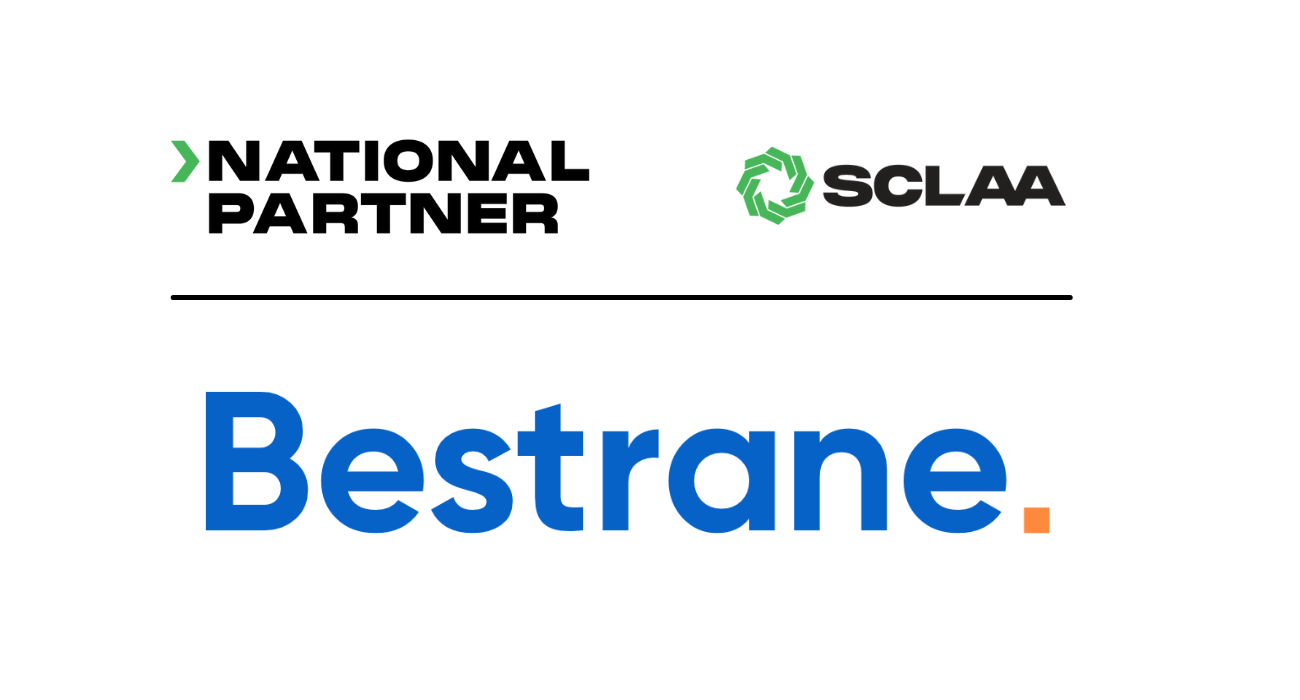 SCLAA Welcomes New National Partner – Bestrane
The SCLAA welcomes our newest National Partner, Bestrane.
Bestrane brings together a unique combination of solutions, services and technologies to solve complex supply chain and logistics problems for our customers.
Our solutions consistently deliver results:
Reduce operational costs and optimise spend
Reduce logistics, planning and other operational costs with clever technologies that remove manual work and streamline operations.
Improve business efficiency
Improve fleet, driver and operational efficiencies with solutions that optimise your core business and customer activities.
Improve customer service outcomes
Provide differentiating levels of customer service with clever solutions that give your customers choice and keep them informed.
Manage risk and protect your fleet and drivers
Enhance safety outcomes for your fleet and drivers with clever solutions that monitor your operations in real time
Reduce your carbon footprint
Reduce your emissions and carbon footprint with optimisation solutions that reduce vehicles used and distance driven.
Our solutions help our customers to put their customers first.
Our services bring together diverse thinking, skills, experience and approaches to support the diverse needs of our customers. And in doing so we deliver big-business impact with a small business feel.
Our technologies are selected from leading global supply chain partners including Descartes, RouteSmart, Glympse, GEOTAB and MobileDOCK.  We combine these with Bestrane's own development and integration capabilities.
Diverse customers across a wide range of industries trust and rely on our solutions.
The Bestrane team is passionate about working in increasingly agile, connected and collaborative ways, and we want to be known for delivering innovative, operationally focused solutions that add value to our customers operations.
Founded in 2005, Bestrane is based in South Melbourne with national and global reach.
Looking for a solutions expert – Contact us to move forward on +61 3 9001 1565.
SCLAA Welcomes New National Partner – The Access Group COGNEX  The Access Group is one of the largest UK-headquartered providers of business management software to small and mid-sized organisations in the Asia Pacific, UK and Ireland. It helps more than 70,000 customers across commercial and non-profit sectors become more productive and efficient. Founded in 1991,…
SCLAA Welcomes New National Partner – Cognex COGNEX  is the world's leading provider of vision systems, software, sensors, and industrial barcode readers in Logistics/Warehouse Automation. Our vision solutions help companies in Retail Distribution, E-commerce Fulfilment, and Parcel Processing industries continue to meet customer demands and performance metrics is greater than ever. Successful companies are scaling…
SCLAA Welcomes New Platinum Partner – Shipeezi An ecosystem in shipment visibility™, bringing together all stakeholders from point of origin through to point of destination into its agnostic Control Tower. Shipeezi, is a dynamic and innovative LogTech company working to revolutionise shipment visibility and supply chain orchestration, as an ecosystem. We empower businesses by simplifying…