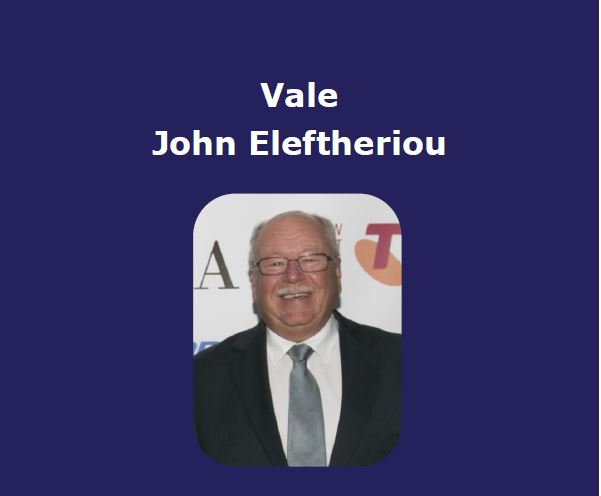 John Eleftheriou was an outstanding contributor to the development of Supply Chain & Logistics Association of Australia (SCLAA). As a National Director, and President of the South Australia Division, John always exhibited entrepreneurial and business acumen in his SCLAA roles.
John was also the chief judge for the Australian Supply Chain & Logistics Awards (ASCLA) from 2014 to 2017 and was heavily involved in the establishment of the Darwin / NT chapter. John had a distinguished career within supply chain having had senior roles with Arnott's Biscuits, Berri Ltd, Faulding / Mayne, Philmac and, of course, Eleftheriou & Associates.
A passionate promoter of SCLAA members entitlements and benefits, he was articulate, knowledgeable, principle, and forthright. John was at home in every formal and informal environment and excelled as a "mate" and "confidant" to many people. His understated Aussie humour was a delight. John took the initiative in rebirthing the SCLAA South Australian Division at an incredibly challenging time. He will be remembered with great respect whenever the success of SCLAA is considered. John passed away on Sunday afternoon in Adelaide 3/01/21.
Our condolences to his family wife Trish, daughter Samantha and son Michael.
John (right) with fellow SCLAA Director, David Rogers, at the
2015 Australian Supply Chain & Logistics Awards.
Are you our new Treasurer? Expressions of Interest should be emailed to secretary@sclaa.com.au. Closing date for Expressions of Interest: Midnight on Friday, 15 September 2023.
The 60th Annual Australian Supply Chain and Logistics Awards were held at Crown Palladium, Melbourne on Friday 18 March 2022. There was a record audience in attendance to celebrate the achievements and innovation in the supply chain and logistics industry – and our MC, Shane Jacobsen, ensured that it really was a night to remember!…
National Partner 3DL/Australian Customs Clearance is helping to arrange for goods to be consolidated and sent via DNV Transport (Dave's Trucks) to Lismore. Dave is collecting and consolidating at his depot in Radar St, Port Lytton. Please email either Chris Roberts at Chris@3dlogistics.com.au or David Carswell at dave@dnvtransport.com.au. Trucks are leaving daily with a warehouse…